6 Classic recipes turned paleo
Read to get serious about taking paleo to the next level in your kitchen? Here's our list of top 6 recipes that may just lead you to fall back in love with a classic dish done paleo. 
1. Paleo "Spaghetti" and Meatballs by Amy Sheree
We are always looking for ways to "hide" vegetables in our kid's meals and we love how Amy incorporated spinach and ground turkey for these moist and flavourful meatballs. Instead of traditional pasta, the meatballs are paired perfectly with zucchini noodles for a hearty dinner meal. Read the recipe 
 2. Pressure Cooker Salsa Chicken Tacos by Nom Nom Paleo
Our pressure cooker is a life saver in our kitchen! It is perfect for making quick weeknight dinners on days when your running a bit behind. This recipe is easy to adapt by coating chicken breast with chilli powder, seasoning salt or my family's favourite, a dash of paprika. The chicken can be layered in the pressure cooker, topped off with salsa, then stewed on a high-pressure setting. Nom Nom Paleo suggests stuffing the chicken in grain free tortillas or lettuce wraps. Read the recipe   
 3. Endive, Radicchio and Apple Salad with Porkitos and Hazelnut by Nom Nom Paleo
This salad combines our two most favourite flavours, sweet and savoury. This medley blends crispy prosciutto chips, raw hazelnuts, endives, radicchio, pink lady apples and chopped Italian parsley for a fancy and beautiful lunch or a filling side dish. Read the recipe 
 4. Steak Zucchini Boats by Paleo Leap
This is a fun meal that the kids can help create. The zucchini is seasoned with salt and pepper and baked in the oven. It's then filled with roasted beef, sauteed mushrooms, onions and bell peppers. They're just as delightful to make as they are eat! Read the recipe 
 5. Paleo "That's Not Cheese" Margharita Pizza by Paleo Cupboard.
This recipe is simply brilliant for those who are lactose intolerant or simply don't like cheese. Instead of cheese, they created a delicious substitute by combining raw cashews, raw pine nuts, salt, unsweetened almond milk, grass-fed gelatin, apple cider vinegar, oregano and basil. The crust is created with a combination of blanched almond flour and tapioca flour. Paleo Cupboard warns that this special "cheese" melts quickly so be sure to it right away - but we doubt you'll need any encouragement. Read the recipe 
6. Seven Ingredient Chocolate Donuts by Elana's Pantry
We're always up for trying a new dessert, especially since our kids insist that chocolate is a food group. This is the kind of recipe that you don't have to feel guilty about and comes in super handy for school bake sales and birthday parties. It combines seven ingredients: coconut flour, cacao powder, sea salt, baking soda, eggs, coconut oil and maple syrup. Read the recipe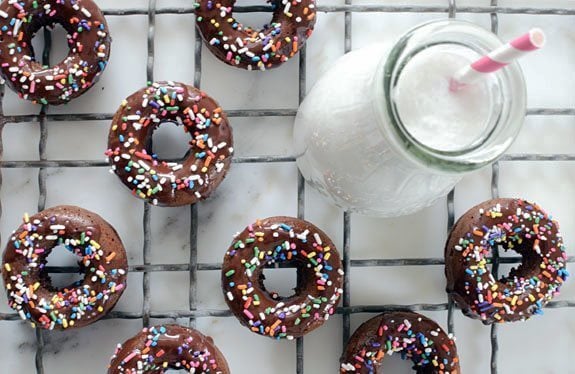 Leave a comment